Tilda Brown Swanson Glass
Tilda Brown Swanson is in the studio creating a new Biospheres series using finely powdered glass and stencils on opaque and transparent glasses.
The work is inspired by travels this past year and our delicately balanced global climate.
Four Seasons I © 2019; Fused Glass in Steel; 9.5" X 9" X 3"
Round Leaf with Sea in Blue © 2019; Fused Glass in Steel; 9.25" X 12.5" X 3"
Brown Swanson is creating worlds within leaves and landscapes, to be available later in 2019.
To see more work in progress from this series, click on the Biospheres tab in the left hand side menu.
Three new pieces from this series are part of group shows in Georgia, Ohio and in Ames, Iowa this Fall.
See the Shows and Galleries tab/page for more information.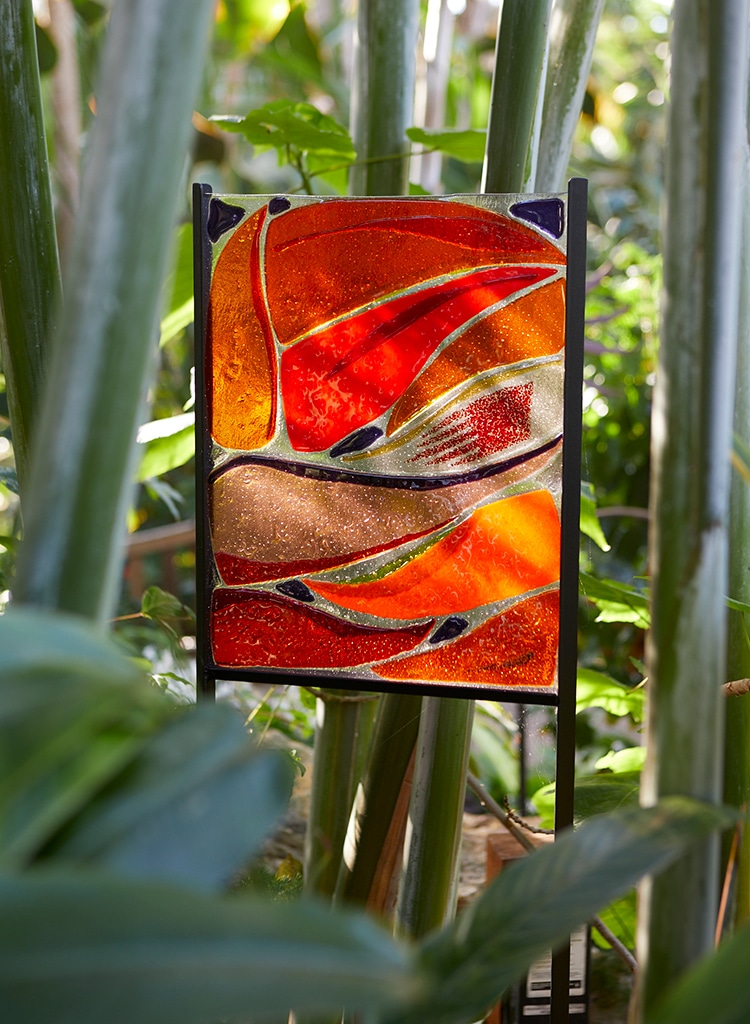 Heliconia Abstract © 2017; Fused Glass 13 x 17 x 2"
In 2017, these Glass in the Garden pieces were shown in the Greater Des Moines Botanical Garden.
Please select the Glass in the Garden tab on the left hand side menu to see more from that series.
Poppy © 2017; Fused Glass 9 x 12 x 3"
Tilda Brown Swanson was one of six artists asked to create concept art showing her vision of glass art in the future Des Moines Children's Museum.
Her poster, done collaboratively with Slingshot Architecture, is on display at the Museum's temporary interactive exhibit location in Valley West Mall in West Des Moines, Iowa.
Please see https://dsmchildrensmuseum.com/
More glass from Tilda Brown Swanson is also available at Octagon Gallery in Ames, Iowa. Visit https://octagonarts.org/shop